Registered .conf18 attendees are invited to join the Splunk Security Team for an all new Boss of the SOC (BOTS) competition at .conf18! During the BOTS competition, you'll show off your l337 skillz and compete against your peers. Are you new to Splunk or competing in a capture the flag isn't your thing? No problem! Come and play with a Splunk table coach! You will have hands-on coaching and participate in BOTS without the pressure of a CTF competition! See below for registration details for your chance to become the Boss of the SOC!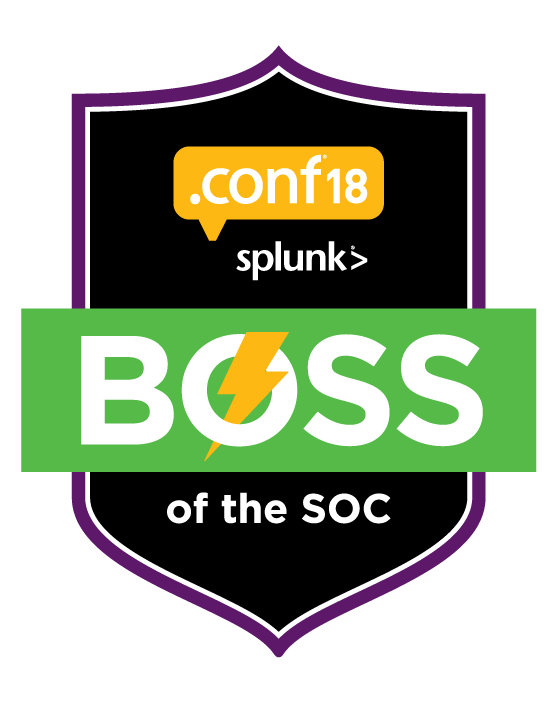 BOTS is a capture the flaq-esque competition, played in teams of up to four. Please note that each BOTS participant MUST:
Be registered for .conf18 (*please use same email)

Bring a laptop with functional/configurable WiFi (OS doesn't matter as long as it can load Splunk in its browser)

Physically be present at the event
Every player must register with a 'team' name (cool points for how fun you make it). If you wish to play on a team, please communicate with your team before registering to be sure and use exactly the same "Team Name". If you are coming to participate but not compete, feel free to make a team, but it isn't a requirement.
Please note: Space at BOTS 2018 is limited so register for .conf18 and submit your team ASAP.
Splunk will review all applications and notify teams that are selected to participate via email.
Scenario:
You will play as the quirky Security Analyst "Alice Bluebird," who is helping Frothly, a home brewing supply company that recently moved almost all on-prem servers to AWS and Azure. Sadly, there are several holes in Frothly's defense that were left from an aggressive cloud transition. Now, Alice is working through some of major incidents with logs from Azure, Linux, Office 365, Cisco Firewalls, AWS, and many more!

Contestants will pivot through realistic data using Splunk's analytics-driven security platform and the wild, wild web. All this while racing the clock to identify the who, how and where through a full forensic investigation. You will be given a series of questions of varying types and difficulties, with scoring based on timeliness and questions difficulty. If you choose to participate but not compete you will not be eligible to win (but are welcome to come!).
So, bring your out-of-the-box thought process, "can do" attitude and security prowess for this fun for all competition, brought to you by Splunk.
Get some of the back story: "
Alice Through the Looking Glass Table.
"