Please join us at SplunkLive! San Francisco - and learn how more than 6,000 enterprises, universities, government agencies and service providers in over 90 countries use Splunk Enterprise to gain Operational Intelligence that deepens business and customer understanding, improves service and uptime, reduces cost and mitigates cyber-security risk.
Speakers
Is your mind already churning with ways Splunk can help you to address challenges in your environment? Our customers share their stories to provide further inspiration.
| | |
| --- | --- |
| | One of the World's Largest Digital Media Companies |
Lisa Tawfall
Sr. Network Security Monitoring Analyst
A Global Engineering and Construction Giant
Agenda
Presented by Markus Zirn, VP Product & Solutions Management, Splunk and Sanjay Mehta, VP Product Marketing, Splunk

» James Lord, Senior Manager Cloud Operations, RMS

» One of the World's Largest Digital Media Companies

» Lisa Tawfall, Sr. Network Security Monitoring Analyst, A Global Engineering and Construction Giant

1:15pm – Breakout Sessions, 1-3

» What's New in Splunk Enterprise 6 (Grand Ballroom AB, 3rd Floor) - This demo rich session provides the essential overview of Splunk Enterprise 6. It's a version of the software that changes everything. Learn about Data Models, Pivots, Analytics and how the new version of Splunk can help you and your organization do more with your data.

» Analytics with Splunk Enterprise, Part 1 (Grand Ballroom C, 3rd Floor) - Expand the usage of Splunk within your company with Splunk Enterprise Analytic features. Learn how to interact with your data in new ways and empower a new class of non-technical users.

» Developer (Union Square, 3rd Floor) - Join the Developer Workshop to learn how to use Splunk to gain application intelligence, integrate and extend the power of Splunk with the Splunk SDKs, and build Splunk Apps using the languages you know and love with the Web Framework in Splunk 6.

2:30pm – Breakout Sessions, 4-6

» Hunk Technical Deep Dive (Grand Ballroom C, 3rd Floor) - See a hands-on demonstration for how to use and benefit from Hunk, including virtual indexing and task scheduling. Immediately begin to explore data. Define schema interactively as you go, versus the need with Hive to define rows and columns in advance. Learn the nuts and bolts of how to architect and administer Hunk. What started as a side project and proof of concept soon grew into a product with its own development team. Learn how to use Hunk's virtual indexing and explore social media and other big data stored in Hadoop.

» Analytics with Splunk Enterprise, Part 2 (Grand Ballroom AB, 3rd Floor) - An interactive session devoted to understanding how to configure and use the advanced analytics features of Splunk Enterprise.

» Sponsored by Prelert - Extending Splunk with Machine Learning: 3 Use Cases (Union Square, 3rd Floor) - Machine learning predictive analytics can extend and accelerate the value you derive from Splunk by automatically detecting normal behavior patterns in your data and identifying changes that can impact performance or cause security issues. Through Rich Collier's work across a broad spectrum of organizations implementing advanced analytics, he has identified 3 key use cases of significant benefit to Splunk users from the early stages of Splunk adaption through to expert applications.
Sponsors
SplunkLive! San Francisco is sponsored by AppDynamics, Arista, Compuware, Extrahop, FireEye, IAS, Prelert, Sourcefire and Vello Systems.
Elite Sponsor
Premium & Emerging Sponsors



Want to sponsor a SplunkLive! event?
Click here
to learn more about our different sponsorships.
Who Should Attend
Already using Splunk and a pro?
Great, join us for the customer presentations and breakout sessions in the afternoon. SplunkLive! is a great opportunity to swap ideas and start to form the Users' Groups you'll help to keep running throughout the year.
Intermediate level Splunk and looking to ramp up your instance?
You can always learn from customer and the solution area presentations. Stick around for the Advanced training session to build the dashboards of your dreams.
New to Splunk?
The overview, gives a primer on the value Splunk delivers. Customer and solution area presentations give you ideas of where you can go. The beginner tech session will help you to get started.
When:
Tuesday, October 29th, 2013
From 9:00am to 4:00pm
Where:
The InterContinental San Francisco
888 Howard Street
San Francisco, CA 94103
USA
T: 415.616.6500
Hotel Website
Do More With Splunk
Apps and add-ons extend the capabilities of Splunk and make it easier to use. Download a few or share your own creations on Splunkbase.
Have questions? Splunk Answers!
Have questions about how to do something in Splunk? Get answers fast!
Splunk life!
Follow your favorite Splunker on Splunk>Blogs.
What Splunk customers are saying
"I was amazed at what Splunk was capable of doing basically right out of the box. Now I'm looking for other ways to use it."
–VP of IT Infrastructure, Insurance and Business Services Company
"SplunkLive! ROCKED! I am glad I got the opportunity to attend and meet people who are growing their business through the use of Splunk. It gave me a lot of new ideas on how we can leverage Splunk to make our lives more efficient and exciting."
–Information Security Manager, Leading Global Entertainment Content Company
FAQ
Do I need to pay to attend?
No, SplunkLive! is free to all. Join us in the morning and learn what other Splunk Customers are using Splunk for and attend the workshops in the afternoon.
Should I bring my laptop?
Yes! Make sure to download Splunk first: http://www.splunk.com/download
Will there be wireless internet?
Yes! There will be an announcement at the beginning of the day covering network and passwords.
What time should I show up?
We start promptly at nine - make sure to arrive by 8:30 am to ensure a good seat!
Is there a dress code?
Dress code is business casual. If you want show your Splunk pride by wearing your favorite Splunk t-shirt—that's also welcome!
Will parking be included?
Unfortunately Splunk doesn't cover parking expenses but we'll include lunch and a collector's t-shirt!
Does SplunkLive! count towards any certifications or accreditations?
Yes, attending SplunkLive! counts as Continuing Professional Education Credits (CPEs) for ISC2 certifications, including: CAP, CSSLP, SSCP and CISSP certifications. Contact education@splunk.com to obtain proof of your attendance.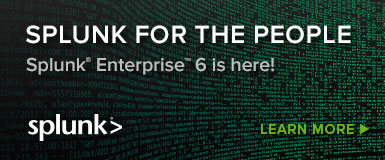 Tweets from @splunk/splunk