Please join us at SplunkLive! San Francisco - and learn how more than 7,400 enterprises, government agencies, universities and service providers in over 90 countries use Splunk® software to deepen business and customer understanding, mitigate cybersecurity risk, prevent fraud, improve service performance and reduce cost.
Speakers
Is your mind already churning with ways Splunk can help you to address challenges in your environment? Our customers share their stories to provide further inspiration.
Dheeraj Khanna


Senior Director of Technical Operations
Zoosk
Agenda
7:30am – Breakfast "Positioning Splunk's Business Value in your Organization"

In this breakfast session we will show you the tools and best practices to help you position and document the value of Splunk as well as real customer examples of people who've done it and how it changed their situation.

9:00am – Welcome, Agenda, Overview

12:00pm – Lunch
» Getting Started with Splunk Enterprise
New to Splunk? This session is for you! You'll learn about searching, alerting, reporting, dashboards, deployment and integration.
» Splunk Ninjas: New Features, Pivot, and Search Dojo
Besides seeing the newest features in Splunk Enterprise and learning the best practices for data models and pivot, we will show you how to use a handful of search commands that will solve most search needs. Learn these well and become a ninja.
» Splunk for IT Operations
Join our Splunk experts to learn about some of our latest solutions for MS Exchange, VMware and NetApp storage. Learn how these Apps enable IT operational visibility with pre-built dashboards, logical drill-downs, customizable searches and built-in cross-tier correlations. Join us for a live demonstration on these Apps and learn how to use the power of Splunk to solve a variety of operational challenges such as troubleshooting, capacity planning, change monitoring, security analyses and much more. If you're struggling to gain insights into your connected datacenter, you don't want to miss this session. If you're not, you still want to be here to learn how you can make the most out of Splunk to gain IT operational intelligence.
» Session sponsored by Cisco
Use Cisco integration with Splunk to separate the wheat from the chaff in your security event console. This session will outline and demonstrate how to increase the accuracy of events that are deemed "high priority" and then quickly decipher how to act on those events by utilizing the advanced threat detection of Cisco Sourcefire and user identity and device-type context from Cisco Identity Service Engine (ISE) in combination with Splunk analytics capabilities.
» Splunk for Business Analytics
Learn how leading companies are extending Splunk outside of core use cases to deliver Business Analytics in areas such as digital intelligence, customer analytics, product analytics and insights across complex business processes. You will also learn about different Splunk capabilities including DB Connect and ODBC that make it easier to expand Splunk use cases for business analytics and deliver insights to new business users.
» Splunk for Security
Join our Security Expert and learn how to use Splunk Enterprise in a live, hands-on incident investigation session. We'll use Splunk to disrupt an adversary's Kill Chain by finding the Actions on Intent, Exploitation Methods, and Reconnaissance Tactics used against a simulated organization. Data investigated will include threat list intelligence feeds, endpoint activity logs, e-mail logs, and web access logs. This session is a must for all security experts! Please bring your laptop as this is a hands-on session.
» Splunk for Developers
Join the Developer workshop to learn about the many options there are for developers to extend and integrate with the Splunk platform by using our various language SDKs, the Web Framework , creating custom components such as Search Commands and Modular Inputs and ultimately understanding the potential opportunity for you in creating your own Splunk Apps.
» Extending Splunk with Machine Learning: 4 Use Cases with Prelert
Machine learning predictive analytics can extend and accelerate the value you derive from Splunk by automatically detecting normal behavior patterns in your data and identifying changes that can impact performance or cause security issues. Through Rich Collier's work across a broad spectrum of organizations implementing advanced analytics, he has identified 4 key use cases of significant benefit to Splunk users from the early stages of Splunk adaption through to expert applications.
Sponsors
SplunkLive! San Francisco is sponsored by AppDynamics, Cisco, Compuware, Emulex, Extrahop, FileTrek, Integrated Archive Systems, MapR, Norse, Nutanix, Prelert and Rapid7.
Platinum Sponsors
Gold and Silver Sponsors



Want to sponsor a SplunkLive! event?
Click here
to learn more about our different sponsorships.
Who Should Attend
Already using Splunk and a pro?
Great, join us for the customer presentations and breakout sessions in the afternoon. SplunkLive! is a great opportunity to swap ideas and start to form the Users' Groups you'll help to keep running throughout the year.
Intermediate level Splunk and looking to ramp up your instance?
You can always learn from customer and the solution area presentations. Stick around for the Advanced training session to build the dashboards of your dreams.
New to Splunk?
The overview, gives a primer on the value Splunk delivers. Customer and solution area presentations give you ideas of where you can go. The beginner tech session will help you to get started.
When:
Tuesday, August 12th, 2014
From 8:00am to 4:30pm
Where:
The Westin St. Francis
335 Powell St
San Francisco, CA 94102
USA
T: 800.937.8461
Hotel Website
Do More With Splunk
Apps and add-ons extend the capabilities of Splunk and make it easier to use. Download a few or share your own creations on Splunkbase.
Have questions? Splunk Answers!
Have questions about how to do something in Splunk? Get answers fast!
Splunk life!
Follow your favorite Splunker on Splunk>Blogs.
What Splunk customers are saying
"I was amazed at what Splunk was capable of doing basically right out of the box. Now I'm looking for other ways to use it."
–VP of IT Infrastructure, Insurance and Business Services Company
"SplunkLive! ROCKED! I am glad I got the opportunity to attend and meet people who are growing their business through the use of Splunk. It gave me a lot of new ideas on how we can leverage Splunk to make our lives more efficient and exciting."
–Information Security Manager, Leading Global Entertainment Content Company
FAQ
Do I need to pay to attend?
No, SplunkLive! is free to all. Join us in the morning and learn what other Splunk Customers are using Splunk for and attend the workshops in the afternoon.
Should I bring my laptop?
Yes! Make sure to download Splunk first: http://www.splunk.com/download
Will there be wireless internet?
Yes! There will be an announcement at the beginning of the day covering network and passwords.
What time should I show up?
We start promptly at nine - make sure to arrive by 8:30 am to ensure a good seat!
Is there a dress code?
Dress code is business casual. If you want show your Splunk pride by wearing your favorite Splunk t-shirt—that's also welcome!
Will parking be included?
Unfortunately Splunk doesn't cover parking expenses but we'll include lunch and a collector's t-shirt!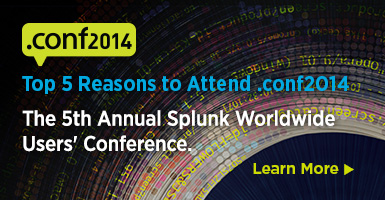 Tweets about "#splunklive"